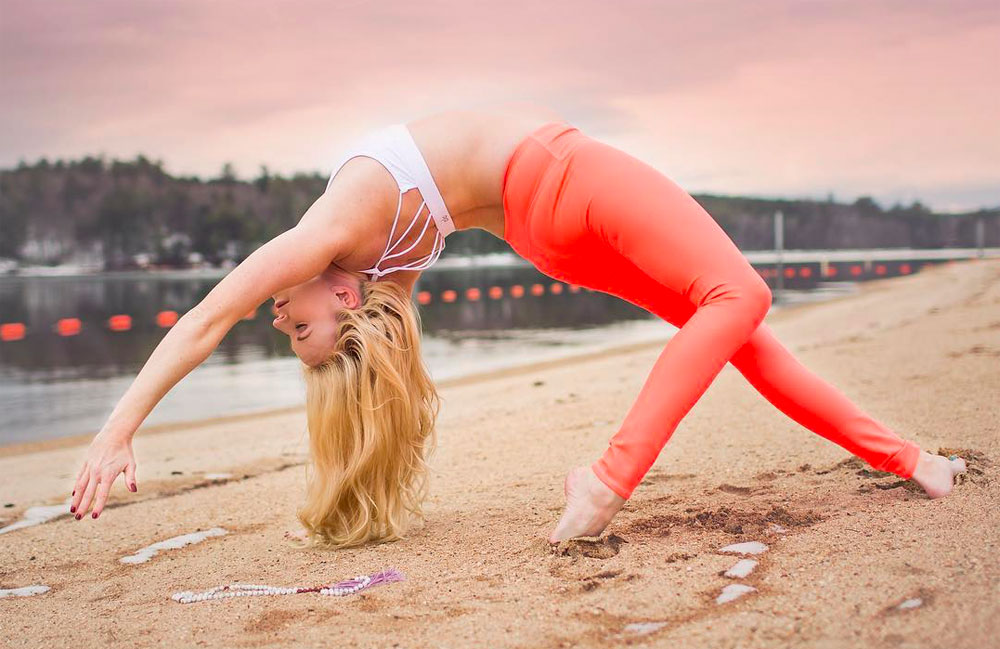 In the '5 Minutes' series, you'll meet the raddest health and fitness ladies on the internet. Get ready for a serious dose of inspiration from empowering women I admire around the globe.
Name: Megan Lawing
Age: 27
City: Lincolnton, NC
Day Job: Stay-at-home mommy/yoga model
What's something people don't know about you?
I'm married to someone 10 years older than me!
What keeps you motivated on days you're feeling blah?
My sister makes me do yoga even if I don't want to. Not that she joins me — she just makes me get up and going!
Your go-to healthy snack obsession… and unhealthy guilty pleasure.
Any fruit, especially watermelon or açai bowls. And chocolate. Definitely chocolate. Butterfingers, Reese's, Snickers… OK, I've gotta stop.
Most random thing in your gym bag.
I actually don't have a gym bag — I always work out from home. But there's always a set of yoga clothes in my car!
Your favorite and least favorite workout moves.
My favorite is handstands. They build up strength in so many areas, plus they're fun! My least favorite is ANY kind of hip opening stretches/workouts. My hips apparently hate me and those stretches are incredibly painful.
Tell me something (anything!) 100% honest.
I have a phobia of spiders, and no one better use that against me!
Most embarrassingly awesome workout jam on your playlist.
Bon Jovi's "You Give Love a Bad Name."
Love Megan as much as I do? Keep up with her here:
Instagram:
@northcarolina_yogagirln
YouTube:
North Carolina Yoga Girl
Facebook:
North Carolina Yoga Girl