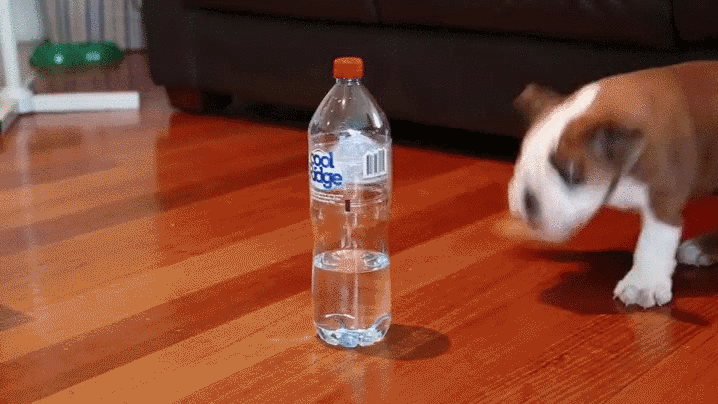 I talked about my water woes last October, and I've gotta admit — drinking infused water worked for a hot second, but not much longer. For some reason, I can't get myself to drink like a normal person — it can be sitting in front of me for hours and I won't even take a sip. And let me tell you… there's nothing fun about being in a constant state of dehydration.
Then, a miracle happened. My deskmate (Dr. Oz The Good Life's genius beauty editor Sarah Weir) introduced me to this little gadget that hooks around your water bottle or glass and lights up when you need to take a drink. Yeah. The only thing that would work better would be if I hired someone to sit beside me and tap my shoulder every time I went longer than 30 minutes without guzzling down some H2O.
Ulla reminds me of the Giga Pet I had back in the day. Except instead of forgetting about it and accidentally killing my virtual cat, my little Ulla keeps me from passing out from lack of the most important thing my body needs to function. Basically I have one job — to drink at least 9 cups of water a day — and I can't even do that, so having a little help is a dream.
After posting about it on Instagram, so many of you were as obsessed as I am — and guess what? Because of that, I've partnered with the brand to give three of you an Ulla of your own. Check out the incredibly simple giveaway details on Instagram tonight at 8pm! And if you're still wondering why it's so crucial to drink water in the first place, here are some reasons you might have forgotten about. (I definitely did.)
1. Water Helps You Stay Full
I'm definitely guilty of thinking I'm hungry 24/7, and I'm sure most of time my body is just yelling "GIVE ME WATER NOWWW." When you drink water, you feel full. When you feel full, you don't take in unneeded calories. And when you don't take in extra calories, you're much more likely to lose or maintain your current weight. Reach those #goals.
2. You'll Keep Your Youthful Glow
Having a puffy face, dark circles under your eyes, and bloating can be prevented by drinking enough water. Your skin will look better — no pimples! — and your tummy will be a lot flatter. Who knew a little H2O could serve as the Fountain of Youth? It's a free anti-aging solution.
3. Say Goodbye to Feeling Down
If you're feeling depressed, incredibly low on energy, sluggish, or just down in the dumps, it could be because you're not drinking enough water. The next time you're in a slump, reach for a glass before you go anywhere near energy drinks or coffee.
4. Your Workouts Will Get Easier
I specifically remember trying to take a cycling class after a workday where I barely drank any water. I tried chugging some before, and by the end I was so dizzy that I actually thought I was going to pass out. I had to go lie down on a mat outside the studio with sweat dripping down my face feeling like absolute crap. Water is the fuel our bodies need to get through those hard workouts, so drink. up.