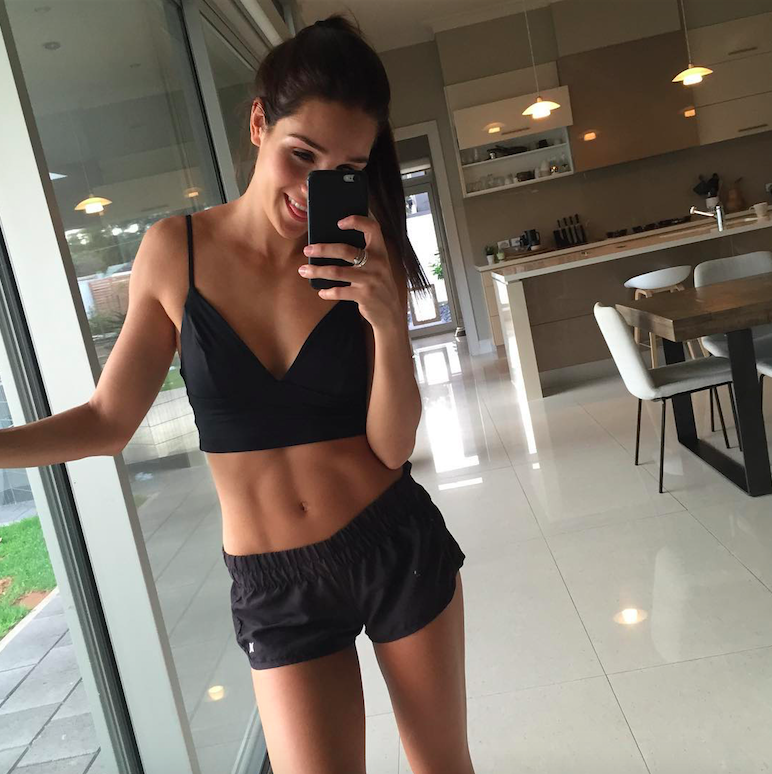 I've interviewed Kayla Itsines a few times (most recently for Teen Vogue when I worked there), but I'm most proud of the first. While running my online magazine, Love Twenty, in college, I noticed this amazingly fit Australian girl popping up on my feed. She had a big following, but it was no where near it is today at 4.6 million. I reached out to set up an interview — the first in the United States! — and Kayla and I went back and forth with questions online. Now remember: this is in early 2014 before she even had a full PR team and her very own #KaylasArmy. Crazy, right?
Unfortunately I didn't have enough time to continue running a full-on magazine of my own once I started working full-time and the website is no longer up, but I wanted to re-publish this interview because it's still so good. This lady knows her stuff, and she has since the very beginning. And the part I love about her most is that she hasn't changed. She hadn't even reached a million followers yet when I interviewed her, and now she grows thousands upon thousands by the day — everyone knows her name. If there's anyone completely deserving of their success, it's this #girlboss.
What's the #1 mistake you see women make when they're trying to get fit?
Girls so often fluctuate between taking their health seriously and not doing anything at all. Nothing is worse for your body than constantly putting it through changes like this. This frequently is the cause of bloating, rapid weight gain or weight loss, emotional eating, and disappointment.
You have an amazing stomach. What are your tips for getting those abs?
My biggest tip is "be consistent." As I said above, nothing is worse than changing your training or eating patterns all the time. If you act consistently, your body is able to change progressively and healthily. Changing all the time to attain a quick fix basically just stresses your body out and more often than not sends you backwards.
Do you have advice for someone who wants to quit eating junk food and jump into a healthier lifestyle?
I could write about this question for ages! There are so many little tips or foods you can use to help curb cravings for sugar or bad food. I think the biggest mistake women make is that they try to change overnight and they cut a lot of carbs out. My recommendation here is to keep carbs in — just exchange bad, sugary ones for healthy and high-fiber carbohydrates. This will keep you full, help curb carb cravings, and will give you lots more longterm energy. I'm not saying you'll forget about chocolate, but it will soon leave the front of your mind when your abs start showing. 😛
What are your favorite exercises?
To be honest, I don't have a favorite — I have a small group of favorites. These include skipping, ab exercises on a decline bench, and challenging jump exercises such as tall box jumps.
What's your go-to snack?
I love fruit like there's no tomorrow. My yiayia and papou (grandma and grandpa) grow their own figs and they taste amazing.
If a woman only has minimal time to work out, what type of workout would you suggest?
This is actually what I base my entire training principal around — getting workouts done fast. All of my workouts are 28 minutes plus rest time. Any high intensity, circuit training from my Bikini Body Training Guide will definitely get your heart pumping and can be completed in under 30 minutes. They are designed to burn fat, fast.
What do you think of "cheat meals"? Is one big, unhealthy meal worth it, or would women be better off giving themselves smaller treats more often?
I've touched on this a few times on social media and inside my health eating guidelines. I believe that one single meal outside of your eating regime per week is enough. There isn't any huge physical benefit to this, but in terms of living your life, enjoying time with family and friends, and being able to relax, I think this can be paramount for some people's lifestyles. Typically during the week, I create small, healthy treats like protein balls, but these still actually fit within my regime.
What are the things you absolutely need in your gym bag at all times?
Without a doubt at all, I always have headphones with good bass for my iPhone, a drink bottle with lemon/lime and ice, and my sweat towel.
What do you recommend eating before and after an intense workout?
I typically work out in the middle of the day, so I have a small snack prior to my workout. I don't usually have big meals beforehand because this can make me sick. Afterward is always lunchtime for me, so I definitely have a big meal here and it's usually some form of sushi or wrap — those are my favorites.
What's the best piece of fitness advice you've ever gotten?
"Worry about the future, don't worry about the now. You will get there, but something that will always come in between you now and you later is time." My boyfriend, Tobi, actually said this to me after an operation I had for endometriosis. I was so ill and fatigued I couldn't even sit up out of bed. I was so upset after going from working out a lot during the week to barely being able to roll over in bed. Not long after, I was well and truly back into it. I think sometimes people just want to rush everything in today's society — whether it's weight loss, growing up, or driving from A to B. Perhaps we all need to slow down and learn to experience change as it comes. It's the change that happens over time that changes you as a person, not the difference between you before and after. The process and experience for me is greater than finishing first.
Go check out my article on @lovetwentymag for some of my latest tips and info. ☺️💪 pic.twitter.com/bhhVHJJR10

— Kayla Itsines (@kayla_itsines) April 24, 2014