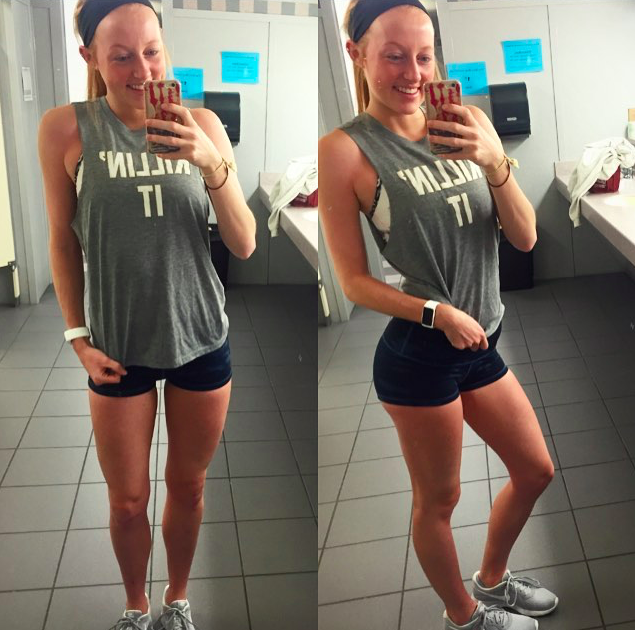 In the '5 Minutes' series, you'll meet the raddest health and fitness ladies on the internet. Get ready for a serious dose of inspiration from empowering women I admire around the globe.
Name: Sydney Tollett
Age: 18
City: Fayetteville, AR
Day Job: College, Majoring in Dietetics
What's something people don't know about you?
I'm organized in most areas of my life except for my room. It's basically never clean, but somehow I always still manage to find everything I need.
What keeps you motivated on days you're feeling blah?
I think what keeps me motivated when I can't do it myself is the support I have around me. I know if I push through the off days, I'll come out even stronger and more thankful for the lifestyle I've chosen.
Your go-to healthy snack obsession… and guilty pleasure.
Healthy Snack: Rice cake with peanut butter and apple slices with cinnamon.
Guilty Pleasure: If I have to just pick one… ice cream!
Most random thing in your gym bag.
Dry shampoo? I really don't take much to the gym with me!
Your favorite and least favorite workout moves.
Favorite: Squats — for the bootayyyy duh.
Least Favorite: Pull-ups — my arms have always been the weakest part of my body so they're really hard for me.
Tell me something (anything!) 100% honest.
I've had to overcome many eating habits/disorders to get to the healthy place I am today.
Most embarrassingly awesome workout jam on your playlist.
J Beibs, Love Yourself.  Or anything Fetty Wap.
Love Sydney as much as I do? Keep up with her here:
Instagram:
@syd_healthynfit
Blog:
syd-healthynfit.weebly.com
YouTube:
syd_healthynfit