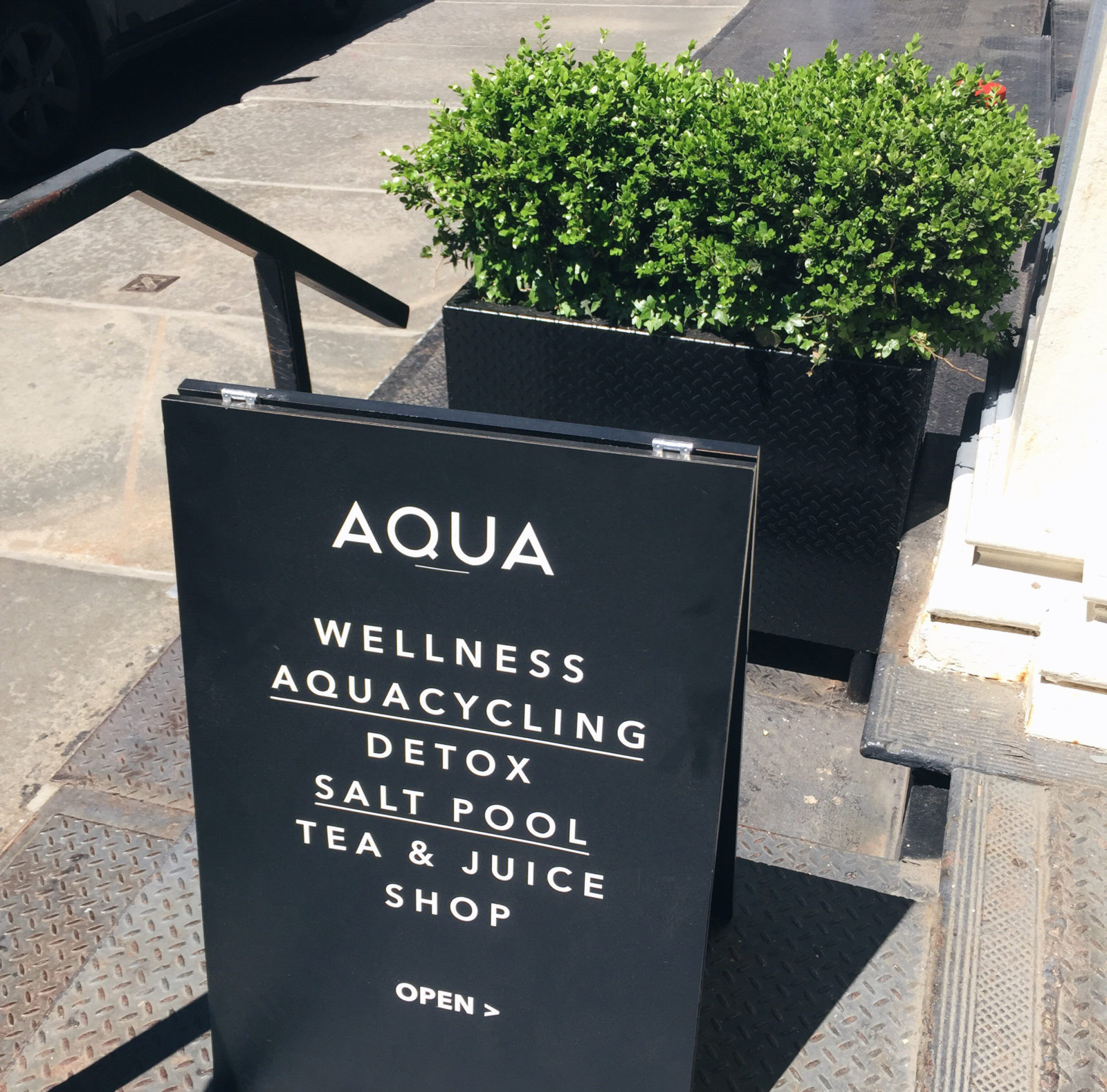 Over the past year, I've fallen completely in love with indoor cycling. It started as a way to get in some cardio without running, but turned into a full-on obsession. After taking countless classes at a whole bunch of studios around New York City — from Soul Cycle and Cyc Method to Swerve — I was introduced to a completely different type of riding. You know, where you're chillin' in water.
First of all, the thought of being in water in general got me pretty excited to try out AQUA. In the TriBeCa studio, there's a small pool with bikes lined up just like you'd see in your typical spin class. I had no idea what to expect as I was one of the few people swimming around waiting for class to start (it's clean water! in New York City! how could I resist?), but the second the music turned on and I put my feet in the pedals, I was in for a surprise. I knew pedaling in water was going to be a challenge, but whoa.
Unlike cycling out of water, when you're working with actual resistance from the blue stuff, it's crazy-hard. It's also a little hard to get the hang of. After figuring out how to ride more smoothly like the regulars in class instead of jerking around, I thought I had it down. But then it was time to work other parts of our body. We slid off the back of the bikes and did some moves to challenge our abs and back. Although I was definitely feeling the burn in the moment, I felt it even more the next day. I didn't even know those back muscles existed.
Aqua cycling is definitely something I would try again. It's 100% weird not feeling your sweat during class (thanks, h2o!), but anyone who thinks being surrounded by water is going to make things a little easier is totally wrong. Even though it's tough, it's a whole lot more spiritual and relaxing than your typical spin class. If you're looking for a little mental clarity as well as the physical benefits, grab a swimsuit (and shorts if you want to stay comfortable on the seat!) and dive into this fun experience.